Q & A with Chantal Groot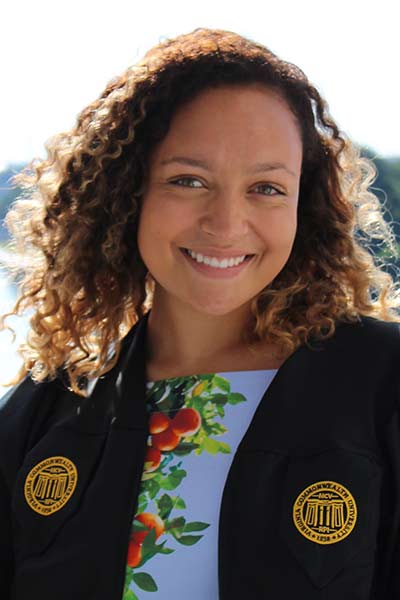 The best part is the connections you begin making with the real world. The Exercise Science program builds a bridge between your classes and the health and fitness industry.
When did you decide you wanted to study kinesiology and health science?
During my sophomore year at VCU I realized I wanted a major that was focused on health, the human body, and the relationship between the two. My best friend studied health sciences and told me I should go to an interest meeting for prospective KHS students. I went to the meeting and once I heard the courses I'd get to take for exercise science, I knew this was exactly what I was looking for. The ability to study the effects of disease and exercise on a person was unique to this program and I knew this was a field I would always enjoy having a career in.
What was one of your favorite classes in your major?
My internships were great learning opportunities for me; the department lets students utilize these courses to explore their interests and gain practical applications of the skills we've learned. I did my 300-hour internship as an assistant for the musculoskeletal structure and movement lab but my supervising professor also set up amazing opportunities for me. I got to observe an experiment in one of VCU's rehabilitation labs, pose my own biomechanical research question, and learn to test muscle strength in a clinical setting. Without my internship, I would never have gotten such a chance to find my passion for biomechanics.
Who was one of your favorite professors?
Dr. Jackie Morgan was my favorite professor. She is passionate and knowledgeable about the mechanics of human motion and you can feel that in the dedication she puts into each class. The material in her class can be complex at times, but she gives very applicable examples to help you visualize information. One class she even brought in weights and did bicep curls to demonstrate the exercise in our problem! She truly goes above and beyond for her students, providing us with extra resources and office hours to help us succeed. All of the guidance and knowledge from Dr. Morgan inspired me to keep learning and challenging myself even after I graduated.
Why should someone major in Kinesiology and Health Sciences?
This major doesn't leave a single stone unturned; you explore a wide variety of subjects, but the best part is the connections you begin making with the real world. The exercise science program builds a bridge between your classes and the health and fitness industry: you'll learn how to place ECG leads, test cardiovascular fitness, and design a diet plan. With such a multidisciplinary approach, exercise science provides you all the tools you need to go into any career path you could want. The amount of versatility allows students to not only go on to become physical or occupational therapists, but also athletic trainers, sports psychologists, and exercise physiologists. The applications for this major are endless, you can truly make your own path.
Can you tell us about what you're doing now as a Kinesiology and Health Sciences graduate?
All the guidance I received at VCU helped me find my passion: biomechanics. I decided I wanted to pursue my Master's in that field and my search for a program went global, now I've finally ended up in Amsterdam, Netherlands! I'm studying biophysics in sport at Vrije Universiteit Amsterdam where I'm diving deeper into muscle and exercise physiology and working with athletes to help optimize how they move. When I'm not studying, I'm usually cycling around the city and enjoying the scenery- biking in the Netherlands is the primary mode of transportation and I'm lucky that I can keep putting my exercise science knowledge into practice!