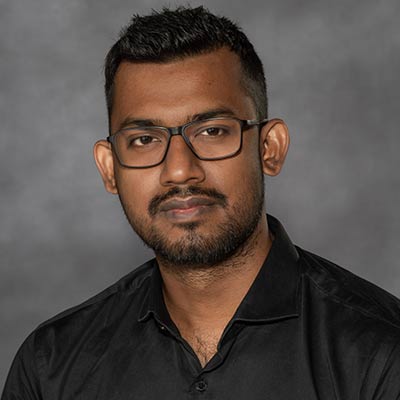 Syed Ahmed
Graduate Assistant (Advisor: Dr. Salvatore Carbone)
813 W Franklin ST (new STEM building)
Education
M.P.H. in Public Health, James P Grant School of Public Health, BRAC University, Bangladesh., 2015
M.B.B.S. in Medicine, Sir Salimullah Medical College, Dhaka University, Bangladesh., 2012
Select Publications
Ahmed SI, Hasan ST, Ahmed T. Obesity is a potential risk factor for covid-19 associated morbidity and mortality in urban Bangladesh. Bmj. 2020 Jul 14;370.
Ahmed SI, Hasan SM, Khan M, Ahmed T. Effect of Maternal Exposure to Seasons During the Second and Third Trimester of Pregnancy on Infant Birthweight in Rural Bangladesh. Current Developments in Nutrition. 2020 Feb 4.
Khan MA, Hira-Smith M, Ahmed SI, Yunus M, Hasan ST, Liaw J, Balmes J, Raqib R, Yuan Y, Kalman D, Roh T. Prospective cohort study of respiratory effects at ages 14 to 26 following early life exposure to arsenic in drinking water. Environmental Epidemiology (Philadelphia, Pa.). 2020 Apr;4(2).
Hasan SM, Ahmed SI, Khan MA, Sarker SA, Ahmed T. Optimizing Gestational Weight Gain, Birth Weight and Perinatal Outcomes among Pregnant Women at Risk of Hypertension in Pregnancy by Regular Monitoring of Weight Gain and Blood Pressure: Study Protocol for a Pilot Randomized Controlled Trial. JMIR Research Protocols. 2020 Apr 21.
Angeles LF, Islam S, Aldstadt J, Saqeeb KN, Alam M, Khan MA, Johura FT, Ahmed SI, Aga DS. Retrospective suspect screening reveals previously ignored antibiotics, antifungal compounds, and metabolites in Bangladesh surface waters. Science of The Total Environment. 2019 Dec 27:136285.
Karim MA, Ahmed SI, Ferdous J, Islam B, Tegegne HA. Assessing informed consent practices during normal vaginal delivery and immediate postpartum care in tertiary-level hospitals of Bangladesh. European Journal of Midwifery. 2019;3.
Awards
Awarded GCE Round 19 Grant as Principal Investigator from Bill and Melinda Gates Foundation.
Finalist for the concept development competition in IsDB Engage Roadshow research fund in 2018.
Post graduate research fellowship from University of Saskatchewan under James P Grant School.
Begum Rokeya Sakhawat Hossain teaching fellow award for Best Teaching fellow for MPH course by James P Grant School of Public Health, 2016.